TUNNING DE MAZOS PARA UN METAGAME PLAGADO DE DELVER...........MASIIIII JUEGO DELVER!!!!
Todo el mundo sabe que Delver es un arquetipo muy versátil por donde se lo mire, y es si bien puede tener salidas muy explosivas en ningún momento descuida los aspectos mas importantes de un arquetipo Agro Control capaz de jugar en ambos turnos, con cierta similitud con el Faeries de Standard de años atrás, en donde contamos con un buen numero de cartas con disrupción, los mejores draws del formato, evasión y la que es seguramente la criatura mas versátil del formato de estas ultimas semanas, ni mas ni menos que Restoration Angel, algo que lo hace casi invencible siempre que contemos con un buen jugador piloteando el mazo.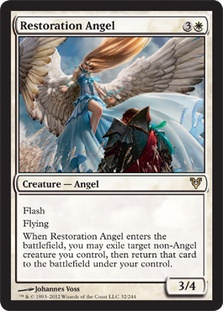 Recordemos que si bien el Restoration Angel tomo protagonismo en el mazo estas ultimas semanas cuando Gerry Thompson junto con otros grandes jugadores como Charles Gindy lograron copar el Top 8 del SCG Open Nashville, siendo Gerry quien se llevaría el torneo, el primer jugador en notar el potencial de esta carta sería Ben Friendman quien la semana anterior lograría acceder al Top 8 del Grand Prix Minneapolis luego de lanzarse en un proyecto de mazo que incluía 2 Copias del Restoration Angel.

 Hoy por hoy ya dejo de ser una novedad el gran alcance que puede tener Restoration Angel en una mazo como el Delver y es que analizando las distintas herramientas con las que uno cuenta al momento de querer  atacar este mazo lo primero que se nos venia a la mente era Huntmaster of the fells, bastante devaluado este ultimo tiempo y con mucha razón. Ya no se puede especular con pasar el turno y no jugar hechizos sin tener que preocuparnos por el Angel que sumado a Vapor Snag y Snapcaster Mage dejan en segundo plano la mejor habilidad del Huntmaster.

 Por esta y demás razones debemos pensar en una lista principal capaz de incorporar las mejores armas y herramientas contra este mazo siempre que tu idea sea llegar lejos en un torneo de cierta relevancia por lo que en este articulo vamos a repasar las mejores listas para un Metagame plagado de U-W Delver.

Y que mejor forma de conocer las debilidades de un mazo que estando al tanto las diferentes listas posibles:


U-W Delver – Luis Scott Vargas

2 Sword of War and Peace
4 Delver of Secrets
4 Restoration Angel
4 Snapcaster Mage
1 Dismember
2 Gut Shot
4 Mana Leak
2 Thought Scour
4 Vapor Snag
4 Geist of Saint Traft
3 Gitaxian Probe
4 Ponder
8 Island
1 Plains
3 Cavern of Souls
4 Glacial Fortress
2 Moorland Haunt
4 Seachrome Coast
Sideboards (15)
3 Hero of Bladehold
2 Phantasmal Image
3 Celestial Purge
1 Dismember
2 Dissipate
1 Divine Offering
1 Mental Misstep
2 Tamiyo, the Moon Sage

 No tengo dudas que la versión con la que Luis Scott Vargas logró quedarse con una de la plazas en su equipo Nacional es la indicada para el Metagame de hoy en día, y es que si al enorme potencial de U-W Delver le sumamos 3 copias de Cavern of souls no solo tendremos el mejor mazo del formato a nuestra disposición sino que también  estaremos muy bien preparados para sacar adelante el mirror.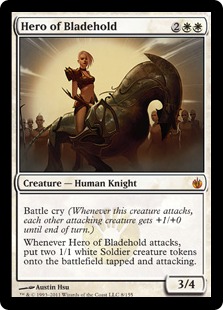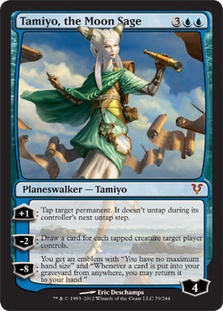 Hero of Bladehold resulta bastante interesante contra Mirror y Ramp mientras que las 2 copias de Tamiyo parecen haberse ganado un lugar dentro del side siendo adoptadas incluso por el mismo Gerry Thompson para este ultimo SCG Invitacional disputado durante este fin de semana.
 Sword of war and peace tiene mucha mas lógica que la Sword of Feast and Famine en el actual metagame pensando en el mirror.

U-W Delver – Yuuya Watanabe Grand Prix Manila 1th

4  Glacial Fortress
8  Island
2  Moorland Haunt
1  Plains
4  Seachrome Coast
4  Delver of Secrets
4  Geist of Saint Traft
3  Restoration Angel
4  Snapcaster Mage
4  Gitaxian Probe
3  Gut Shot
3  Mana Leak
1  Mutagenic Growth
4  Ponder
3  Runechanter's Pike
4  Thought Scour
4  Vapor Snag

Sideboard
3  Celestial Purge
1  Dissipate
1  Gut Shot
1  Mana Leak
2  Mental Misstep
1  Mutagenic Growth
2  Phantasmal Image
1  Spectral Flight
1  Sword of War and Peace
2  Timely Reinforcements
15 sideboard cards

 Bastante fresquita la versión que le permitiría a Yuuya Watanabe quedarse con su segundo Grand Prix consecutivo en el Continente Asiático. En primer lugar vemos que Watanabe elije jugar la menor cantidad de tierras posibles optando por la mayoría de los draws de un mana como Ponder, Gitaxian Probe y Thought Scour lo que hace lógico la elección de Runechanter's Pike en lugar de las espadas.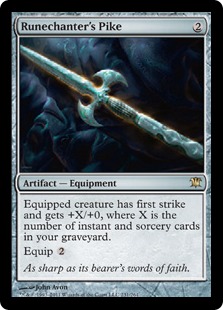 Otro detalle a tener en cuenta es que esta versión no juega Dismember, lo que nos hace notar la poca preocupación de Watanabe por el Restoration angel apostando mas a que cualquier criatura equipada con Runechanter's Pike te corre con o sin Angel. El side casi se cae de maduro...no tiene sentido jugar cartas como Tamiyo o Enfinje con tan pocas tierras.

 Ahora si pasemos al que hoy en día es sin duda el gran rival del Delver que si bien no pudo colar a ningún representante en el Top del Grand Prix Manila sigue siendo una buena alternativa a tener en cuenta de cara a los próximos torneos:

RG Aggro – Matt Costa (versión modificada)

3 Sword of War and Peace
2 Phyrexian Metamorph
1 Thrun, The last Troll
4 Birds of Paradise
4 Huntmaster of the Fells
4 Llanowar Elves
4 Strangleroot Geist
3 Wolfir Avenger
1 Wolfir Silverheart   
3 Galvanic Blast
2 Dismember
2 Bonfire of the Damned
4 Green Sun's Zenith
10 Forest
3 Mountain
4 Copperline Gorge
2 Kessig Wolf Run
4 Rootbound Crag

 Esta lista incorpora las mejores cartas en contra de Delver como: Phyrexian Metamorph, Thrun, The last Troll, Dismember y Bonfire of the Damned y es una modificación de la lista de Matt Costa la cual no juega Bonfire of the Damned de main.
 Tuve la oportunidad de jugar este mazo durante la pasada WMCQ debiendo lidiar contra 5 Delver terminando 3-2. Ese día tampoco iba a jugar Bonfire of the Damned de main, algo de lo que me iba a arrepentir teniendo que sidebordearlos en 6 de 7 partidos,  por lo que resultan indispensables.
 Dismember es una carta que se me ocurrió el día anterior al torneo, y es que era lo primero que se me venía a la mente pensando en el Restoration Angel, aunque no estoy del todo seguro si es la carta indicada, solo me sirvió en un partido.
 Thrun, The last Troll: esta carta es casi vital en este match y es que si logramos colar un Zenith por Thrun es muy probable que nos de el partido, mas aún si tenemos Kezzig Wolf run otra carta de la cual me gustaría tener una 3er copia.
Phyrexian Metamorph: uno piensa que la idea de este bicho es básicamente matar Geist of saint traft aunque también suele ser bastante útil a la hora de tener otros objetivos, especialmente contra Pod o Ramp.
 Respecto a la elección de la Sword of War and peace, se aplica el mismo caso que en el Delver.

Esta es la lista que juega Javier "Topo" Gavilan, reconocido amigo de Tom Martell quien en la semana me dio un paseo testeando Delver contra RG.

RG Aggro - Javier "Topu" Gavilan

4 Copperline Gorge
11  Forest
4  Kessig Wolf Run
1  Mountain
4  Rootbound Crag
4  Birds of Paradise
4  Borderland Ranger
4  Huntmaster of the Fells
4  Llanowar Elves
4  Strangleroot Geist
1  Thrun, the Last Troll
3  Wolfir Silverheart
4  Bonfire of the Damned
4  Green Sun's Zenith
4  Sword of War and Peace
12 other spells
Sideboard
2  Ancient Grudge
1  Batterskull
2  Combust
2  Crushing Vines
3  Sword of Feast and Famine
2  Thrun, the Last Troll
1  Wolfir Silverheart
2  Zealous Conscripts
15 sideboard cards


4  Bonfire of the Damned no será mucho? NOOO , es la posta…esta carta es vital contra Delver, Pod y Mirror por lo que no esta mal jugar 4 copias de main. Además tengan en cuenta algo clave….mucha gente piensa que solo sirve robarla cuando en realidad en un deck con 24 tierras, 8 aceleradores y 4  Borderland Ranger esta carta es letal inclusive casteandola. El resto del mazo es bastante cuadrado aunque veo con muy buenos ojos la inclusión de 4  Kessig Wolf Run.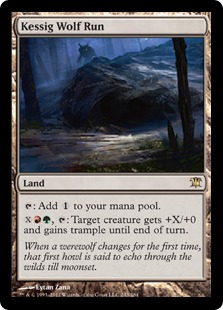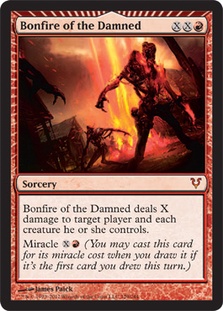 Ahora si pasamos al POD, si bien resulta bastante estable contra la mayoría de los mazos jugar entorno al Birthing Pod contra Delver puede jugar bastante en contra, muchas veces podemos perder por la secuencia Vapor Snag – Snapcaster por lo que pienso que lo ideal es apostar a una lista mas agresiva como la de Brian Kibler.


Naya Pod – Brian Kibler

2 Birthing Pod
1 Phyrexian Metamorph
4 Avacyn's Pilgrim
4 Birds of Paradise
4 Blade Splicer
2 Borderland Ranger
1 Fiend Hunter
3 Huntmaster of the Fells
4 Restoration Angel
3 Strangleroot Geist
2 Wolfir Silverheart
1 Zealous Conscripts
2 Oblivion Ring
2 Thalia, Guardian of Thraben
1 Garruk Relentless
6 Forest
1 Mountain
1 Plains
2 Cavern of Souls
4 Copperline Gorge
3 Gavony Township
4 Razorverge Thicket
2 Rootbound Crag
1 Sunpetal Grove
Sideboard:
2 Sword of War and Peace
2 Wolfir Silverheart
1 Zealous Conscripts
1 Ancient Grudge
2 Combust
2 Incinerate
1 Ray of Revelation
2 Thalia, Guardian of Thraben
2 Bonfire of the Damned

 Los 4 Restoration Angel son esenciales contra Delver ya que te permiten defender a tus bichos de Vapor Snag mientras que a su vez son muy fáciles de colar. 2 copias de Thalia, Guardian of Thraben son otro de los factores que suman bastante en este tipo de partidos mientras que Cavern of souls nos da evasión a los Mana Leak para colar Humanos a su vez que nos permite filtrar color, uno de los grandes problemas del mazo.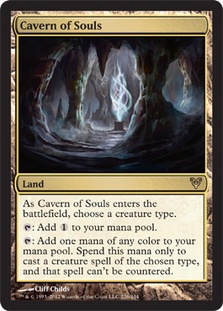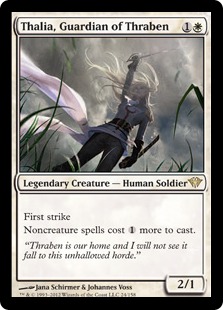 Hay que aclarar que aun así el Match contra Delver es muy difícil por lo que no es mala idea pensar en una versión con Bonfire of the Damed de Main.

Naya Humanos – Martín Juza Grand Prix Manila Top 8

4  Avacyn's Pilgrim
4  Birds of Paradise
4  Blade Splicer
4  Borderland Ranger
3  Geist-Honored Monk
4  Huntmaster of the Fells
4  Restoration Angel
3  Strangleroot Geist
3  Thalia, Guardian of Thraben
4  Bonfire of the Damned
4  Cavern of Souls
4  Copperline Gorge
3  Forest
4  Gavony Township
2  Mountain
2  Plains
4  Razorverge Thicket
23 lands

Sideboard
1  Ancient Grudge
2  Celestial Purge
2  Combust
1  Crushing Vines
2  Hero of Bladehold
1  Oblivion Ring
1  Plummet
2  Wolfir Silverheart
3  Zealous Conscripts
15 sideboard cards

Precisamente tenemos una versión de Naya muy preparada contra Delver de la mano de Martín Juza quien lograría llegar al Top 8 del GP Manila piloteando Naya Humanos. Y es que como lo mencionamos anteriormente uno de los grandes problemas del mazo era el tema de combinar las tierras por lo que Juza decidió jugar 4 Cavern of soul en un deck con una buena base de los mejores humans del formato.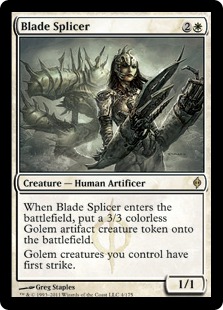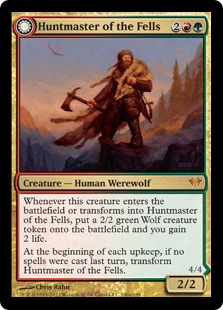 3  Thalia, Guardian of Thraben 4  Bonfire of the Damned 4  Restoration Angel y 4  Cavern of Souls son nuestras mejores armas para llevarnos este partido. Eso si…habrá que mirar de re ojo el resto de los mazos ya que a simple vista parecería quedar bastante descompensado contra arquetipos como Ramp y Solar Flare, y hasta el mismo Pod.

Brad Nelson – Wolf Run Ramp

4 Sphere of the Suns
4 Solemn Simulacrum
4 Inferno Titan
4 Primeval Titan
2 Beast Within
3 Thrun, the Last Troll
2 Devil's Play
4 Rampant Growth
4 Slagstorm
3 Whipflare
5 Forest
4 Mountain
4 Copperline Gorge
4 Glimmerpost
3 Inkmoth Nexus
2 Kessig Wolf Run
4 Rootbound Crag
Sideboard:
1 Batterskull
3 Tumble Magnet
2 Ancient Grudge
2 Beast Within
2 Karn Liberated
2 Pillar of Flame
3 Cavern of Souls

 Sinceramente creo que hoy en día esta es la mejor versión de Ramp contra Delver, y es que Huntamaster of the fells si bien es una criatura bastante versátil a esta altura esta demasiada quemada, Delver ya juega alrededor de esta carta casi como si nada por lo que toda la vida prefiero 3 Thrun, the Last Troll. 2 Beast Within es un común denominador en todas las versiones de Ramp hoy en día por lo que no requiere mayor explicación.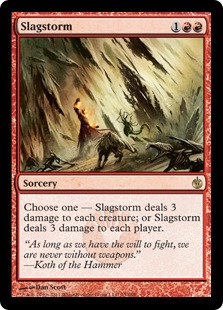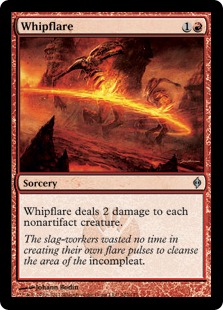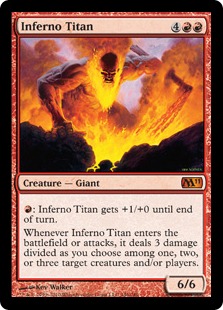 4 Inferno Titan, 4 Slagstorm, 3 Whipflare son casi fulminantes en este partido a su vez que también son buenos contra Agro en General.
De Side 3 Cavern of Souls como debe ser y 3 Tumble Magnet; esta carta es la única solución viable contra Zealous Conscripts y si alguien tiene alguna mejor que me la diga…..

Esper Control

1 Ratchet Bomb
4 Phantasmal Image
3 Sun Titan
1 Dead Weight
2 Oblivion Ring
1 Doom Blade
4 Forbidden Alchemy
1 Go for the Throat
3 Mana Leak
1 Elesh Norn, Grand Cenobite
2 Gideon Jura
2 Day of Judgment
4 Lingering Souls
3 Ponder
1 Unburial Rites
1 Terminus
3 Island
3 Plains
1 Swamp
2 Darkslick Shores
2 Evolving Wilds
2 Ghost Quarter
4 Glacial Fortress
4 Isolated Chapel
4 Seachrome Coast
1 Cavern of souls
Sideboard:
1 Nihil Spellbomb
1 Ratchet Bomb
2 Consecrated Sphinx
2 Celestial Purge
1 Divine Offering
1 Flashfreeze
2 Negate
1 Surgical Extraction
2 Terminus
2 Timely Reinforcements


 Esta parecería la mejor opción a la hora de tener un muy buen M.U contra Delver sin descompensar el resto de los mazos. El segundo mazo mas jugado durante el día 2 de competición del Grand Prix Manila, aunque sin ningún representante en el Top. Si bien las últimas versiones incluyen 2 copias de Tamiyo creo que hoy en día esta lista es la indicada para ganarle a Delver sin problemas. 4 copias de Phantasmal Image parecerían demasiado y si bien el motor del mazo funciona en base a este tipo de cartas tranquilamente se podría reemplazar por una Nihil Spellbomb o Batterskull.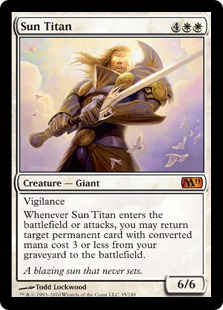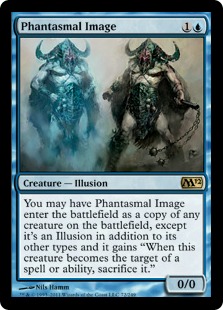 Las 3 copias de Mana Leak tienen mucho que ver con la reciente incorporación del Restoration angel y si bien hasta que uno no la prueba puede sonar algo loco la Cavern of souls es bastante útil a la hora de querer Colar un Sun Titan. El resto del mazo es mas que conocido y uno sabe que cuenta con la mejores armas contra Delver como Phantasmal Image o Lingering Souls entre otras cartas aunque uno nunca debe descuidar este Match ya que en un buen día un Delver te puede correr tranquilamente y por lo general Esper Control es un mazo que no perdona errores y que requiere bastante testeo.

U/B Zombies - Matt Costa

3 Porcelain Legionnaire
4 Blood Artist
1 Devouring Swarm
4 Diregraf Ghoul
4 Geralf's Messenger
4 Gravecrawler
4 Phantasmal Image
2 Geth's Verdict
4 Tragic Slip
2 Killing Wave
4 Ponder
10 Swamp
3 Cavern of Souls
4 Darkslick Shores
4 Drowned Catacomb
Sideboard:
2 Ratchet Bomb
3 Phyrexian Obliterator
2 Act of Aggression
2 Go for the Throat
3 Mental Misstep
2 Liliana of the Veil
1 Swamp

 Si bien no tengo muy testeado el mazo esta claro que Zombies tiene buen Match contra Delver aunque resulta difícil saber elegir la versión indicada. En este caso Matt Costa propone una lista U/B con 4 Phantasmal Image de main que sumados a 2 Geth's Verdict, 4 Tragic Slip, 2 Killing Wave y 3 Cavern of Souls pueden llegar a ser muy buenos en este partido.
 Otra de las opciones que tenemos es la R/B  y que mejor que la lista que hizo Top 8 en el Grand Prix Manila


Jacklord Nerez – Grand Prix Manila Top 8


4  Blackcleave Cliffs
3  Cavern of Souls
4  Dragonskull Summit
12  Swamp
23 lands
3  Blood Artist
4  Diregraf Ghoul
2  Falkenrath Aristocrat
2  Fume Spitter
4  Geralf's Messenger
4  Gravecrawler
2  Phyrexian Metamorph
3  Porcelain Legionnaire
24 creatures
4  Brimstone Volley
2  Geth's Verdict
2  Go for the Throat
1  Killing Wave
2  Mortarpod
2  Tragic Slip
13 other spells
Sideboard
1  Batterskull
1  Killing Wave
2  Manabarbs
2  Manic Vandal
1  Massacre Wurm
2  Nihil Spellbomb
3  Pillar of Flame
1  Witchbane Orb
2  Zealous Conscripts
15 sideboard cards


Esta lista parecería ser más estable contra el resto de los mazos en Gral. sin descuidar el Match contra Delver, sobre todo por la variedad de cartas que tenemos de side contra Solar o Ramp, algo que por ahí en la versión con Azul esta bastante desprotegido.
2  Zealous Conscripts y 2  Manabarbs son bastante buenas en estos match mientras que 3  Pillar of Flame cierran mucho mas contra RG Agro y Pod.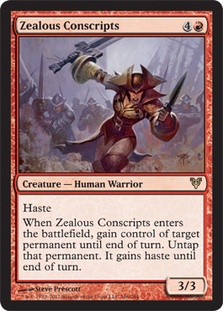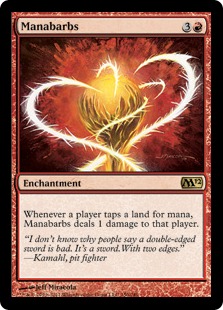 Bueno Gente hasta aquí un breve repaso de los mazos potencialmente mejor preparados para un Meta en donde Delver parece haber sacado mucha ventaja, espero que les haya servido de algo. Mucha Suerte a los que viajen a Córdoba y Nos estamos viendo…..