ZOO, ZOO Y MAS ZOO: ANALIDIS DE TODAS LAS VERSIONES DEL MAZO MAS JUGADO DEL MOMENTO!!!
A esta altura resulta difícil hacer cualquier tipo de análisis acerca del viejo y querido Zoo, y es que la mayoría piensa "que cosa nueva podes contarme acerca de uno de los deck mas jugados de los últimos años" por lo que me decidí en hacer un Articulo detallando las distintas versiones de Zoo en Modern de forma que puedas contar con los fundamentos suficientes para elegir la que mas te guste.
En primer lugar que mejor que empezar con la lista de Paolo Vitor Da Rosa, recordemos que la misma fue diseñada en cooperación con el Team Channelfireball permitiéndoles a varios miembros llegar al Top 8 del Mundial 2011.



PAOLO VITOR DA ROSA (5-1) WORLD 2011

4 Arid Mesa
1 Blood Crypt
1 Breeding Pool
1 Forest
1 Hallowed Fountain
1 Marsh Flats
4 Misty Rainforest
1 Sacred Foundry
1 Plains
4 Scalding Tarn
1 Steam Vents
1 Stomping Ground
1 Temple Garden
2 Kird Ape
3 Knight of the Reliquary
3 Snapcaster Mage
4 Tarmogoyf
4 Steppe Lynx
4 Wild Nacatl
4 Lightning Bolt
4 Lightning Helix
4 Path to Exile
2 Spell Pierce
4 Tribal Flames
SIDEBOARD
2 Ancient Grudge
2 Combust
2 Deathmark
1 Kitchen Finks
2 Mindbreak Trap
1 Negate
2 Ranger of Eos
2 Seal of Primordium
1 Torpor Orb
En este caso la decisión fue adoptar la versión de Zoo Domain tratando de aprovechar la gran sinergia que existe entre cartas como Tribal Flame, Lightning Helix o Path to exile combinadas con el Snapcaster Mage.
Repasando la lista vemos que la idea se enfoca mas que nada en sacar ventaja los primeros turnos de criaturas como Steppe Lince, Wild Nacalt o Kirp Ape para luego terminar los partidos de la mano de un Tribal Flame entre otras cartas, y es que pensando en un metagame plagado de Zoo Tribal Flame nos da cierta ventaja a la hora de pensar en la carrera de daños. Tengamos en cuenta que una de las falencias de Zoo es la enorme cantidad de vidas que se puede perder en un partido entre Fechs y Shockland por lo que un tribal Flame a la cabeza combinado con un Snapcaster te puede mandar a casa rápidamente.
 Otro de los agregados fundamentales del mazo es el steppe Lince, que sin duda representa una amenaza para cualquier oponente, teniendo en cuenta que jugamos 13 Fechlands, un arranque con el lince puede significar hasta 8 Vidas de ventaja, además de que siendo 4/5 resulta imposible de parar los primero turnos, por lo que en el peor de los casos se lleva un removal puesto, dejándonos lugar par jugar Goyf o Relicarios con menos chances de morirse.
 Siguiendo con la lista una de las cosas que mas llama la atención es la incorporación de 2 copias de Spell Pierce. Seguramente si repasamos la anterior lista del Counter Cat jugada por el mismo team el pasado Pro Tour Philadelphia podíamos ver cierto numero de cartas contra Twin de main, caso de Bant charm que en esta versión seguramente resultaría bastante lenta, por lo que se opto por jugar 2 copias de Spell Pierce, que si bien no tiene la efectividad de un Negate tiende a seguir con la estrategia del mazo que apunta a sacar los partidos en la menor cantidad de turnos posibles por lo que no siempre vamos a tener dos mana abiertos, al igual que en alguna que otra ocasión en la que nos permitirá salvar algún bicho de algún removal caso de Steppe Lynx sin necesidad de perder el turno pensando en que nuestro oponente jamás se podría esperar una carta así.

Pasando a la siguiente lista tenemos la de Richard Bland, finalista del World 2011 con un parcial de 5-1 en el tercer día del Mundial con este Deck.

RICHARD BLAND (5-1) - WORLD 2011

4 Arid Mesa
2 Forest
4 Grove of the Burnwillows
1 Horizon Canopy
4 Misty Rainforest
1 Mountain
1 Plains
2 Sacred Foundry
1 Stirring Wildwood
2 Stomping Ground
1 Tectonic Edge
1 Temple Garden
4 Noble Hierarch
4 Knight of the Reliquary
4 Tarmogoyf
4 Wild Nacatl
2 Qasali Pridemage
2 Elspeth, Knight-Errant
2 Gideon Jura
2 Lightning Helix
4 Punishing Fire
4 Lightning Bolt
4 Lightning Helix
4 Path to Exile
Sideboard
2 Ancient Grudge
2 Combust
1 Elspeth, Knight-errant
1 Lightning Helix
2 Qasali Pridemage
2 Relic of Progenitus
3 Rule of Law
2 Sword of Feast and Famine
Esta lista también fue muy popular entre los mejores mazos de Modern del Mundial y es que repasando carta por carta nos damos cuenta rápidamente que contamos con varias de las cartas claves para sacar adelante el Mirror contra Zoo: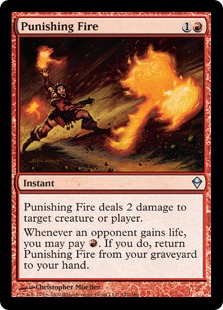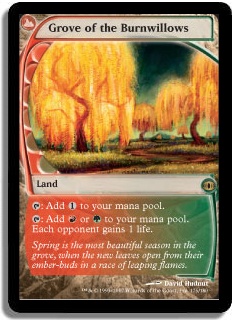 En primer lugar tenemos el  Combo Punishing Fire + Grove of the burnwillows. Si bien en un mirror la diferencia la hacen cartas como Knight of Reliquary o Tarmogoyf los punishing fire permiten ganar tiempo en base a armar nuestro juego sacándonos de encima aquellos bichos agro de bajo coste o ganando turnos en caso de hacer objetivo al un Noble Hierarch. Siguiendo con esta tendencia a medida que vayamos desarrollando nuestro juego el punishing fire ya no solo se va a comer a criaturas de resistencia 2 por lo que a la larga el combo resulta indispensable para el mazo. No nos olvidemos que contra Affinity es tal vez en donde mejor podamos aprovechar la versatilidad de este combo, al igual que por ahí cualquier otro deck Agro.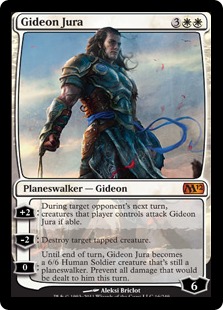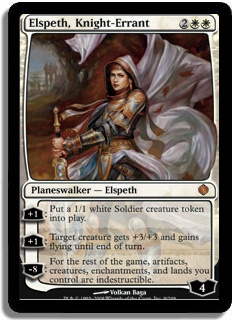 En segundo lugar tenemos 2 copias de Elspeth Knight- Errant y Gideon Jura: volviendo a la estrategia que busca desarrollar el mazo, en base al combo del punishing fire con Grove of burnwillows sumado a la aceleración que nos da Noble Hierarch y Knight of the reliquary tendremos el tiempo necesario para bajar cualquier de estos resultando 2 potenciales finisher. Recordemos que tanto el Elspeth como Gideon resultan extremadamente buenos en un Mirror Match siendo muy difíciles de matar ya que ambos cuentan con la cualidad de defenderse por si solos y en el peor de los casos nuestro oponente va a necesitar mas de una carta o perder algún bicho en el camino para sacárselos de encima.
 Elspeth funciona de tal manera que en algunas ocasiones nos puede llegar a servir tanto como para encaminar un partido como también para terminar uno. El caso del Gideon resulta similar, si bien cuesta un mana mas y a veces se complica defenderlo tiene un enorme potencial contra mirror o Jund al igual que Elspeth.
 Entre las falencias del mazo es claramente notorio lo poco preparado que esta contra Combo. En Match contra Twin de main sin duda se presenta como uno de los mas difíciles teniendo una gran base de cartas contra Agro como las anteriormente mencionadas que no tienen ningún efecto positivo en este partido. Así también el mazo resulta bastante lento como para llegar a correrlo por lo que nuestras únicas chances se limitan a tener un salida rápida especulando sacar ventaja de nuestras únicas defensas contra Twin como Path to Exile y Qasali pridmage.

En síntesis si especulamos con un Metagame plagado de Zoo como se vio en el Mundial esta versión resulta sin duda la mejor opción, aunque hay que tener muy en cuenta que con el Metagame de Argentina uno tiende a llevarse muchas sorpresas basándome en la imaginación de mucho o tal vez la capacidad de jugar algo que no necesariamente tenga que usar Fechs, shocklands y Tarmogoyf.

ANDREA GIAROLA (5-1) - WORLD 2011

4 Arid Mesa
2 Forest
1 Horizon Canopy
2 Marsh Flats
2 Misty Rainforest
1 Mountain
1 Plains
1 Sacred Foundry
2 Stomping Ground
1 Temple Garden
1 Treetop Village
4 Verdant Catacombs
4 Bloodbraid Elf
4 Tarmogoyf
4 Wild Nacatl
4 Knight of the Reliquary
2 Qasali Pridemage
4 Noble Hierarch
3 Blood Moon
4 Boom // Bust
3 Path to Exile
2 Lightning Helix
4 Lightning Bolt
SIDEBOARD
4 Ancient Grudge
1 Elspeth, Knight-errant
2 Gaddock Teeg
1 Gideon Jura
2 Lightning Helix
1 Path to Exile
1 Qasali Pridemage
3 Torpor Orb