Seguimos repasando las cartas de New Phyrexia y el impacto que pueden tener sobre los distintos formatos de Construido asi como Limitado. En el dia de hoy turno de las Rojas, seguramente el color menos beneficiado con la salida de esta edición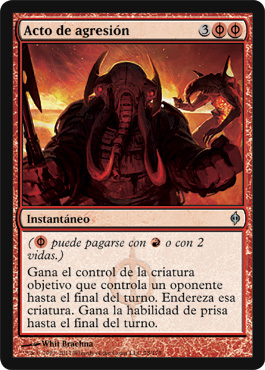 Act of aggression:
aunque el coste le juega un poco en contra estamos de acuerdo en que resulta mejor que

Mark Of mutiny

o

act of treason

por ser intant lo que nos da posibilidad de robarle una criatura a nuestro oponente y usarla para bloquear pudiendo matar dos bichos en un mismo turno. Bastante viable para jugar 1 o 2 copias en el Boros de Standard aunque el tema del coste con mana pirexiano sumado a la cantidad de Fechs que usamos por partido nos puede jugar en contra. Tampoco es mala idea usarla en mazos tipo Burn de side aunque en este tipo estrategias puede resultar bastante lenta. También remarcar que el coste le da la posibilidad de acomodarse a cualquier mazo Agro de Standard, aunque pagar 3 mana y 4 vidas no pareciesen del todo bueno en la mayoría de los casos no hay que descartarla. En limitado si me parece una muy buena carta por la mismo que explicaba antes, el hecho de robarle una criatura a tu oponente para bloquear puede ser partido.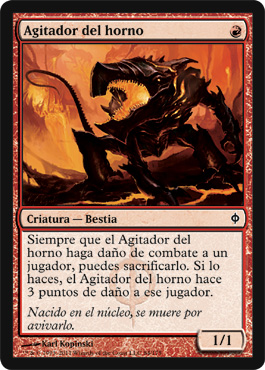 Furnace Scamp: la gente que juega Legacy de Comunes se debe haber vuelto loca con esta carta, una de las mas usadas en las distintas listas de Burn Standard por estos días. La verdad no existen demasiadas cartas que hagan 4 o mas daños con solo un mana Rojo, por ahí Goblin Guide en determinadas situaciones puede tener un efecto similar pero estamos antes uno de esos bichos que por lo menos vale la pena testearlo para todo lo que es Burn en Standard, Extended y hasta me animo a decir en Legacy. Piensen que contra combo o control cualquier oponente la mayoría de las veces no va a elegir gastarse un removal en uno de estos mientras que contra Agro claramente se va a dar la misma situación que con un Goblin Guide, pegar los primeros turnos y sacrificarlo o chumbloquear en el momento indicado. En lo que respecta a limitado no vale aclarar que la carta es muy mala, como lo puede ser un trasgo furioso.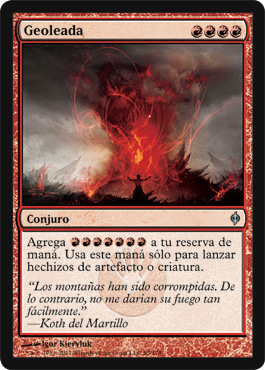 Geosurge: A diferencia de cartas como Seething Soon a esta lamentablemente el coste le juega muuuy en contra. A menos que Chapín nos sorprenda con alguno de esos mazos combos raros que suele jugar no le veo futuro en ningún formato. En Limitado correría la misma la suerte prácticamente.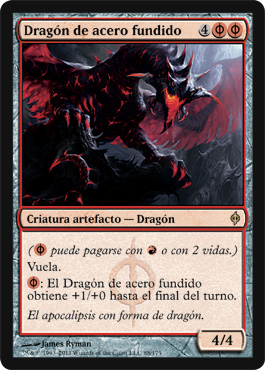 Moltensteel Dragon: sinceramente del momento que vi esta carta me pareció demasiado buena aunque el hecho de que nadie la juegue te convence rápidamente de lo contrario. La idea que tenia era que en un mazo como Burn poder contar con un 4/4 vuela en tu 4to turno que a su vez se pompea por uno rojo podría resultar muy bueno, mas que nada pensando en Demigod of revenge para trazar un paralelismo entre cartas. Seguramente la gente que lo pudo testear por alguna razón se habrá dado cuenta que no va, mayormente por el tema del coste sumado a que siendo artefacto se puede comer de rebote algunos removal. En lo que es limitado, como todo bicho volador grandote siempre resulta una bomba, mas si metemos presión jugándolo rápidamente pagando vidas y claro esto también nos permite incorporarlo en cualquier mazo aunque en este formato siempre uno se las arregle para tener algún rompe artefactos de main.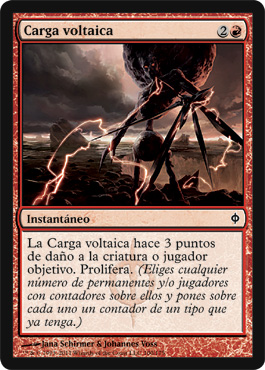 Volt Charge: otra de las que esta viendo juego en Standard, en este caso por lograr combinarse perfectamente con Shrine of burning rage. En limitado seguramente el mejor removal rojo de esta edición ganándole la pulseada a Victorious Destruction por tener un coste mucho mas bajo.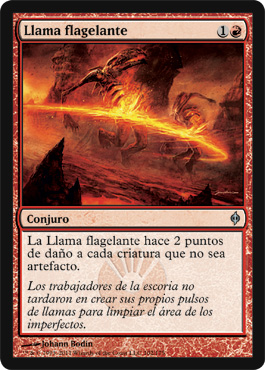 Whipflare: una alternativa a tener en cuenta si Pyroclasm no se reedita en M11 mucho mas adelante en el tiempo pero que basándonos en el Meta de ahora por ahí no resulte del todo adecuado pensando en nuevos arquetipos como Monowhite Affinity. En lo que es Legacy podría llegar a servirle de Side a aquellos que juegan Afffinity mientras que en Limitado todo el mundo sabe que cartas como Pyroclasm, Firespout, Jund Charm o mismo Infest son 1er o 2do pick la mayoría de las veces.
Hasta aquí el repaso de las cartas Rojas de New Phyrexia, en mi opinión el color mas débil de esta edición en lo que es Construido teniendo en cuenta la calidad de cartas que salieron, casi no teniendo la influencia a la que estamos acostumbrados cada vez que sale una nueva edición. Si en limitado en donde uno siempre suele inclinarse por jugar mucho este color para contar cierta cantidad de removals.


ARTICULOS ANTERIORES